A few months back I got three comment notification emails on a post I had subscribed to. The first was a 🙂 . The second a 😛 . The third was a 😉 . That is three different emails. Each showing just an emoji. Argh.
I felt horrible. And annoyed. Horrible because our software had just sent about 30 emails (if you count the other subscribers) with nothing in them but smiley faces. Annoyed because opening and trashing those emails was a waste of my time.
Postmatic 2 has a huge focus on reducing the amount of email sent to your subscribers. We aim to create a system in which a ton of information is being exchanged. But only the important bits get delivered, and only to the right people.
The first step was the formerly announced Flood Control. Flood Control has been out in beta for a few weeks now and is performing exactly as planned: When a post gets more than 3 comments in an hour any new comments are held for a morning digest unless they are directly replies – those are sent to the person being replied to immediately. 
Sending comments to subscribers is nice. Holding back a flood with a digest is good too. But what if we could weed out spam, stupidity, and nice post, dude comments altogether?
First, we had to build The Elevator.
A few weeks ago we quietly released a little plugin experiment in comment intelligence. It's in the WordPress repo: Elevated Comments. It was a collaboration with Carl Alexander (thank you!) and based on very cool work by Nick Diakopoulos.
The plugin asks the question comments are often the best part of a post, so why are they always buried?
What Elevated Comments does
Elevated comments uses language analysis and machine learning to identify the most relevant and thoughtful comment on each of your posts. The comment is then automatically inserted near the top of the post as a simple sidebar pull quote. This takes the best part of the conversation and, well, elevates it up to the top of the screen.
How is the elevated comment chosen?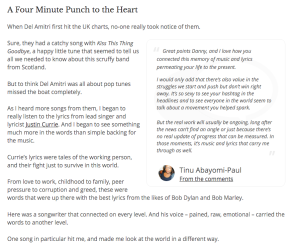 Elevated Comments indexes your post content and compares each comment to it. In particular it looks for:
Readability
Relevance to your post
Number of words (not too long, not too short)
Reading level
Danny Brown (The Brave and the Willing) has been running it for a few weeks over on his site. Visit a single post and look for the pull quote in the sidebar. Its great. I've enabled it on this post if you want to try it out.
Frivolous comment notifications be gone

We're bringing the technology found in Elevated Comments to Postmatic 2. When a new comment is left on a post we'll have our super-smart robots make a decision about if it is worth emailing to your subscribers. If the relevancy, reading level, and length of the comment do not add up to it seeming like a good addition to the conversation we won't email it to the subscribers. The comment will still be sent to the person it was in reply to as well as included in the next daily comment digest. But nobody else will be bothered.
Postmatic 2 will be available very soon
We are putting the final touches on the plugin at this very moment. Also happening is a rebuild of Mothership (our server which handles all the accounts, mail, comments, sites, etc) and wrapping up the new version of gopostmatic.com. We're in the final stretch on all projects.