Support for oEmbed
Embedding audio, video, or documents into blog posts has gotten easier in recent years with the introduction of oEmbed. Specifically in WordPress-powered blogs you can, for example, insert a youtube video by just placing the url to the video on a single line in your post.
Previous to Beta 12 (which is available now) we didn't do the best job displaying embedded content. Sometimes the url would be present, sometimes not. We knew we could do better.
Now when you embed content from any of the sites officially supported by WordPress not only will we display a stylish placeholder which links to the embedded content, but we'll also take a pretty good guess at what kind of content it is. Is it a video? Show the video placeholder. A document? Show the document placeholder.
Now you can include content from Youtube, Vimeo, Blip.tv, Meetup, Scribd, Flickr, Hulu, Issue, Soundcloud and more right in your posts…. and your emails. Here's a youtube video to show you how it works:
Introducing our Concierge service
Our beta program has been a fantastic success. In fact, we're happy to say we'll be launching 1.0 in the first half of January. For the first week of that month the team will be getting together (for the very first time!) in Reno (home to Dylan) to put the finishing touches on the service and hit the switch.
One thing we noticed though is that there are gazillions of people which requested api keys but never got around to actually using them and trying things out. We don't want it to be that way so we decided to offer to do the work. We now have a limited-availability concierge program for any existing key holders which haven't had the time to get Postmatic up and running on their site. We're accepting applications now. If you are on the fence and need a little help let us know.
And some improved support offerings
We already feel pretty great about the level of support we've been offering but we decided to make things even easier for our users. In beta 12 you'll find lots of support resources baked right into the plugin options in Settings > Postmatic. It looks like this: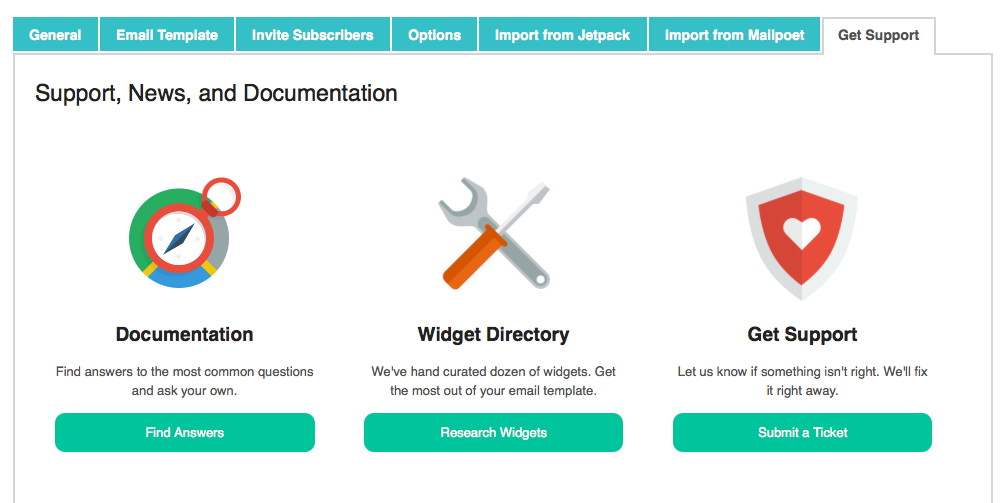 You can now easily find our widget directory, the new and improved knowledge base, as well as easily submit a support ticket.
Next stop Reno and 1.0
I'm so excited to get together with Ankur and Dylan next month in the offices of the beautiful Reno Collective (where Dylan hacks away while his wife Ann manages). We'll be launching Postmatic for the entire WordPress community to use for free as well as unveiling our first premium services…. which are pretty fantastic indeed. Have a great holiday and we'll see you next year!